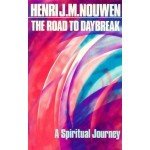 My favourite kind of bedtime reading is any journal or diary. They are usually easy to pick up and put down. The Road to Daybreak by Henri JM Nouwen is the exception. It was published in 1988 and is still available at Amazon.
The book gives a personal account of his introduction to the Daybreak L'Arch Community at Trosly in France. The forward explains that L'Arche is an international network of communities founded by a Canadian, Jean Vanier, where people with developmental disabilities and their "assistants" live together as friends.  Nouwen left his post as a professor at Harvard to seek a new way to be closer to God. As a result of this year, he became a permanent member of L'Arche in Canada.
What I wanted to share on my blog are a couple of things from the book that can help us make sense of the world. The first one is about doing the little we can in order to make a difference. I've spoken before about how hard I find it to deal with the bad things in the news (poverty, violence, natural disasters etc.) Nouwen describes a meditation he led on the topic of the Feeding of the 5000 – a story where the disciples bring small gifts of loaves and fish to Jesus and the result is that all are fed and there is plenty left over.
This is a story that people often have trouble taking in. After all five loaves and two fish are just not enough to feed 5000 people. One preacher I listened to got round it by saying the real miracle was that everyone took out their picnics and began to share with one another. Be that as it may, Nouwen emphasises that the story is about the value of individual people and the small things. He says that the world likes things to be large, big, impressive and elaborate, whereas God chooses small things that are overlooked in the big world.
The mystery becomes clear: what little we give away multiplies; whether it is money, goods, practical help or knowledge. The whole is greater than the individual parts.
I've probably preached like this on many occasions, for these sentiments are dear to my heart. And I guess I preached the words because I needed to hear. Somehow, reading the struggles of someone else to make sense of how we can react faithfully to tragedy, made me in turn see that of course there is hope in the face of all that is wrong. I detected some of that same hope and naiveté in Ed Milliband's interview with the Newsnight commentator, Jeremy Paxman. For once, Paxman seemed genuinely interested and much of his wearisome cynicism was missing. Maybe, just maybe it is possible that politics in our country will be improved by the younger generation.
So…… hope is the theme on Thursday.
(And the second thing I wanted to share will have to wait till tomorrow.)