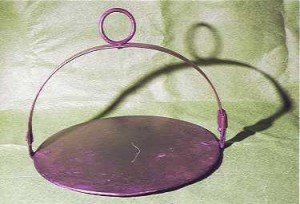 New recipe for gluten-free drop scones with duck eggs. This is inspired by yesterday's surfeit of duck eggs. You can use a real girdle or griddle (don't be confused by the kind you have to squeeze into.) Or a thick-based frying pan will do. This has to be lightly greased and pre-heated as if for gently dry-frying an egg. Ingredients as under:
8oz Dove gluten free plain flour
2 teaspoons baking powder
3 beaten duck eggs
1 large tablespoon golden syrup
half-fat milk to mix – approx 4oz
Someone to stand guard and flip and turn the dropped scones which can be any size you like.
Mix all the ingredients in a large bowl with a mixer till the mix is the consistency to drop/slide off the spoon.  Heat griddle and drop blobs of the mixture onto the pan – a large tablespoon works well. The mixture soon starts to show bubbles coming through and when the sides start to show golden brown the pancakes are ready to turn. No actual flipping, just a quick turn with a greased non-stick lifter. Keep fresh in a folded clean tea towel.
Preferably to be enjoyed with fresh home-made lemon curd. And on the day you make them. Yummmm! But work well with maple syrup and ice cream.
Now what more recipes can be experimented with today?