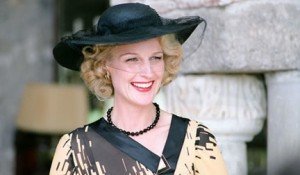 Helen Hunt is one of my favourite movie stars, she never disappoints, indeed her understated classic delivery is always a pleasure to watch; she makes each role her own. So last night I was delighted to curl up with the dog and indulge myself for 93 minutes of sheer enjoyment. A Good Woman is based on the Oscar Wilde play – Lady Windermere's Fan. The original was first performed in the theatre in 1892, but the modern adaptation is set in 1930.
Wilde's language is evocative, and seems to have translated to the period of the 1930s effortlessly – thanks to the screenplay by Howard Himelstein. The supporting actors are equally good, you can see the cast list here. They are mainly British and well known faces, such as Tom Wilkinson and Stephen Campbell Moore. Scarlett Johansson as the young Mrs Windermere is a perfect match. The settings are stunning, the dresses magnificent and the ethos of the whole is whimsical and charming. Just the thing to chase the economic blues.
And by the way – the Amazon DVD is only £3.99. Couldn't be a better investment for the dvd library.