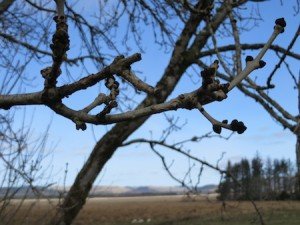 The Birthday Month is nearly over again – in fact the birth date itself has long gone. Here are some of the Treats in the past nine days.
Picnic by the Crinan Canal looking at the buds nearly ready to open out
Afternoon tea in an organic restaurant: – Earl Grey from a pot
Watching The Proposal again on dvd – a real feel-good film.
Walking by the river in the sunshine
Reading a novel in a day and a half and not feeling guilty.
Pretty birthday presents in small boxes
Nearly managing to dance the Salsa
Helping to tidy HBTW's computer space – Yes, really, this is a treat!
And this evening it is Dance Class again, only this week we will be concentrating on ballroom rather than Latin. There is a countdown involved in getting ready to go out, which is watched rather suspiciously by Misty. First of all, out come the silver dancing shoes to be packed, along with a bottle of water. Next comes choosing the "outfit" – black trousers, t -shirt and floaty top. . . . . .   all designed for comfort. I doubt I could manage a so-called ballroom dress. It is difficult enough with one and three quarter inch heels.
After the necessary ablutions and getting changed comes the real challenge – putting on some eye make-up. To think I used to wear this every day . . . . . the secret being for it to look as if one was not actually using any at all. The trouble now is that I need a 6 x magnifying mirror to have any chance of getting any approximation of subtlety. If my hands are still steady enough I find a pair of drop-earrings . . . . the final touch. Then, we leave a mournful little dog and set off the 300 yards or so to the Community Centre. There is something about the combination of exercise and music that lifts the mood. There is also the tendency to forget the steps, trip up, tread on one another's feet and collapse in laughter. Any wonder I call it a Treat?
The whole of life can be about searching out the little happinesses. In fact it is a good way to live. A combination of enjoying life and recognising it. As a Minister I am only too well aware of how suddenly happiness can be swept away. Indeed the recent plane crash in the French Alps illustrates this all too starkly. And I tend to focus on the negatives in life far too much. Politics tends to depress me rather than invigorate me, in direct contrast to HBTW. Poverty, injustice, violence, war . . . . . . .  so many problems. But then there is the beauty of the daffodils coming into flower again as promised.
I hope you see the happy things in life today, and if that is too hard, know that the prayers of others will be there for you at times when there seems to be no hope.