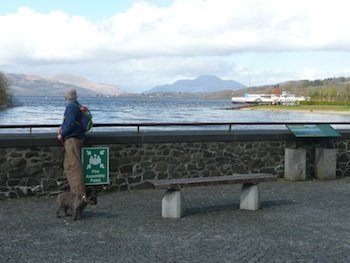 In case you hadn't guessed we had taken advantage of the good weather to go travelling.  This is a shot of HBTW and Misty taken at the southern tip of Loch Lomond.
We started off in the campervan last week in rain and drove east towards the good weather. Edinburgh was not a success, much time was spent driving round in circles trying to find the Royal Yacht Britannia and somewhere near to park. It was all roadworks, closed carparks and noisy machinery, so in the end we gave up, found a quiet spot and brewed up. That's one of the advantages of having your travelling base with you.
A couple of days later, in brilliant April sunshine we set off south to the Borders. It's amazing how everything looks better in good weather. I am pretty sure that many of the problems we have in Scotland are caused by incessant rain and lack of sun. Still, too much heat brings scorpions and flying things that bite and sting, and snakes, and alligators……..
But there's nothing to beat Loch Lomond……. and coming back towards home.