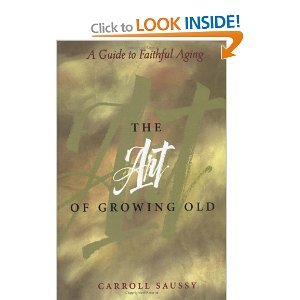 The ageing book on the go at the moment is – The Art of Growing Old, by Carroll Saussy. It was first published in 1998, so is rapidly growing "older" itself. She makes a lot of sense, and I was interested in her life plans regarding her aim to write a follow up in ten years' time. Interestingly enough, she hasn't written the book, but has changed her lifestyle completely – leaving teaching and becoming an artist. Her webpage gives a picture of her life nowadays. Very different from what she had intended, but a testament to someone whose life has been open to change and challenge.
As you can tell, I am enjoying the book immensely; each chapter has meditations and reflections which help to put the reader's life into the picture too. A worthwhile tool and a worthwhile read. Theology is in the frame at the moment because of the course I am doing, and this quote from Saussy sums up much of what is relevant to the self as well as to God's work in us. – She is encouraging readers in this chapter to look at the past and make sense of it…… and goes on……
Life reviewers are empowered through the discovery, conflict resolution, and integration that retelling their story often entails, sometimes experiencing the whole process as religious atonement, at-one-ment, or coming to deep peace with one's life.
Isn't that what we all want as we grow older?