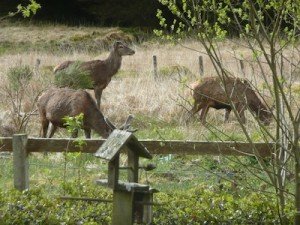 The deer are a regular feature now and we are trying to keep an eye on them to keep them out of the garden. They hop over the fences so easily.  Today being Sunday, they make me think of the 1980s chorus below.(A loose rendition based on Psalm 42).
The music brings back many memories, some good and some ambivalent. There was the time at Keswick when 4,000 people belted it out alongside a modern band – an almost unheard of innovation for most of the people there. And then there was a time in a small rural church in Dumfriesshire, where people were learning it for the first time. To be honest, I am not sure what I make of the words now. I do wonder if many people in an average congregation would feel excluded rather than included by the open devotion that is shown. Even the use of capitals for the personal pronoun and descriptors of Jesus kind of says a lot. It has been included into the new CofS hymnal (CH4) so I guess it is now considered a mainstream song, however the capitals have disappeared, except at the beginning of sentences. What do you think?
As the deer pants for the water
so my soul longs after You.
You alone are my heart's desire
and I long to worship you.
You alone are my strength, my shield,
to You alone may my spirit yield.
You alone are my heart's desire
and I long to worship You.
I want You more than gold or silver,
only You can satisfy.
You alone are the real joy-giver
and the apple of my eye.
You alone are……
You're my Friend
and You're my Brother,
even though You are a king.
I love You more than any other,
so much more than anything.
You alone are……