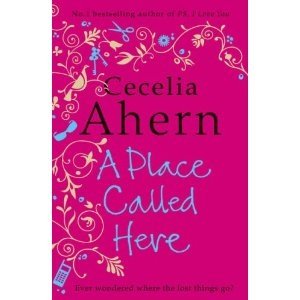 This is another library book; it has been a month of fortuitous choices so far. Cecilia Ahern wrote, PS I love you, and is establishing herself as a successful writer in terms of sales and originality. A Place Called Here is hard to classify; I'm not sure whether it is a fairytale, fantasy, myth, mystery or parable. Of course it could also be true; indeed it is true in its psychological insights.
Published in 2006 it is dedicated to the author's father and has the inscription, Per ardua surgo. (I rise through difficulties.)  The reader has to be prepared to rise through some difficulties in recognising the various voices. The story is largely about Sandy Shortt – 6 feet tall – and persistent to the point of compulsion, in seeking out lost things and people. She is driven by the initial disappearance of a childhood adversary when they are both ten years old.
Like many good novels it increases in intensity and pace, till one feels driven to find out what happens. Not exactly a page turner but more of the sense of being on a mission or voyage of discovery. I often choose books on the basis of who the publisher is; this is published by HarperCollins – often a sign of a good read.
I recommend it for people who enjoy good style, a bit of whimsy and an understanding of the need to seek out hidden truths in life and death. In fact, I am starting right over to read another book by Cecelia Ahern – you can't get better praise than that.
I would be interested to hear if anyone else has read it.